When Is The Best Time For A Maui Whale Watch?
Browsing flights to Maui for next summer in hopes of going on an epic whale watch? Well, hold your horses! This is not the best time for a Maui whale watch.
Whales are a seasonal affair in the Hawaiian Islands. They only show up in the winter months, from December to April. So, if you're heading to Hawaii in the summertime expecting to see whales, you're out of luck. (Although you might be able to spot some dolphins on our Lanai Snorkel Tour.)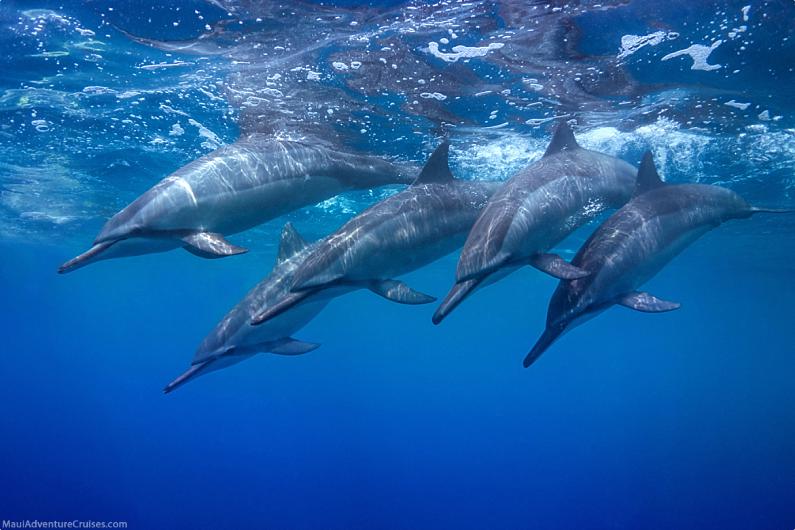 Humpback whales are majestic, beautiful creatures, and seeing one up close can be a profound experience. So, instead of leaving your humpback whale encounters up to chance, let's break down the best times for a Maui whale watch.
Best Months For A Maui Whale Watch
June through August
Rating: Abysmal
No whale watches on Maui operate during this time. Humpback whales pack up and head to Alaska during the summer months.
September through November
Rating: Poor
A few early birds start to trickle in around this time, but no whale tours are running yet. In 2022, the first whale showed up on September 14th, very early! But we can't blame them for wanting to get a headstart on their Maui getaway.
December
Rating: Good
By December, there are enough whales for whale watches to start up again. Your chances of seeing at least a few whales on a Maui whale watch are high. But there are still more on the way. We start running our Whale Watch Adventure tours in December. You're guaranteed to see a whale with us!
January through March
Rating: Excellent
By January, almost all of the migrating whales have arrived. January through March is a whale bonanza, especially off Lahaina, where we run our tours! Good luck not seeing a whale during this time. They're simply everywhere. The probability of seeing baby humpbacks during these months is also high.
April
Rating: Good
Some whales have already started their migration back to Alaska in April. But there are still plenty hanging out in the waters off Maui— especially mothers with young calves. You will definitely see whales on a whale watch in April, but it might not be as frenzied as January through March. We hold our final tour on April 15th and bid adieu to our humongous friends until next winter.
May
Rating: Average to Poor
In early May, you can still spot some stragglers. A few whale watches are still operating here and there. By late May, virtually all of the whales have started migrating back to Alaska.
Best Time Of Day For A Maui Whale Watch
Good news! In the height of whale season, any time of day yields excellent whale sightings. Seas are usually calmer in the early morning, which makes spotting faraway whales easier.
Meanwhile, 11 am to 3 pm affords you the best overhead light. If whales approach your boat, it'll be easier to see them beneath the surface during this time.
Some companies offer sunset whale watches. Whale watching at sunset can be incredibly dreamy and scenic, but the low light makes taking pictures and seeing beneath the surface a challenge. Our latest tour departs at 3:15 pm so you can have the best whale-watching experience.
On A Tight Schedule?
We offer several two-hour Whale Watch Adventures daily out of Lahaina Harbor. We know your vacation time is valuable. That's why we use a speedy ocean raft to get you to the whales, so you spend more time ooh-ing and ahh-ing over humpbacks and less time traveling.
Whale Watch With Us!
Come experience the magic of humpback whales with us! Our tours explore the Auʻau Channel off Lahaina— home to Hawaii's highest density of humpback whales. You're afforded unparalleled viewing opportunities aboard our comfortable 50-foot raft, and our team is constantly dishing out mind-blowing whale facts. Discover why rafting is the best way to whale watch on Maui, and book with us today! We'd love to have you aboard.
---