Our Explorer Super Rafts depart Lahaina Harbor, Front Row Slip 11 at 7:30 AM with check-in at 7:00 AM.
Departures: Daily (April – December)
Tuesday, Thursday, Saturday, Sunday (December – April)

We have coffee, juice and water available for guests during check-in (30 minutes prior to departure).
After departing Lahaina Harbor, we head across the Au'au Channel to the Island of Lana'i. Two snorkel sites are selected; snorkel gear, instructions and safety tips are provided by our experienced captain and crew. Dolphins are often encountered off the island with lots of tropical fish, green sea turtles and occasional manta rays at the snorkel sites. Snorkel sites are chosen by the captain to provide the clearest and calmest ocean conditions (Captain's choice). A deli-style lunch is served on-board at one of the snorkel sites, along with complimentary sodas, juices and waters throughout the trip. (Vegetarian or Gluten Free options are available when making reservations.)
The return to Lahaina Harbor is 12:00/12:30 PM for a total trip of approximately 4.5 + hours.
Save 10% when booking more than 72 hours prior to trip departure.
Qualifying discount applied at check out.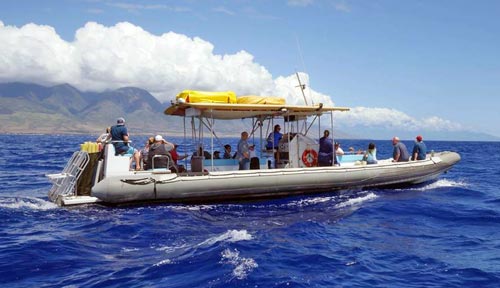 Explorer Super Raft offers a comfortable stable ride to Lanai
Lanai Dolphin Adventure Features:
Travel to see another island from the water – Lana'i, the pineapple island.




Dolphin encounters on 85% of the trips.




The Explorer Super Raft has an on-board marine restroom, plenty of padded seating & shaded areas.




Our Explorer Super Raft provides a stable and comfortable CADILLAC RIDE with more snorkel time and less travel time.




Wetsuits are available pre-boarding for an additional charge.




An inexpensive half-day of fun and adventure with 2 snorkeling locations at diverse and remote sites with 30 + people, not 150 + people on the big boats.

What to Bring:




Towel • Sunscreen (non-spray) • Camera




Wear your Swimsuit




Light jacket or long sleeve shirt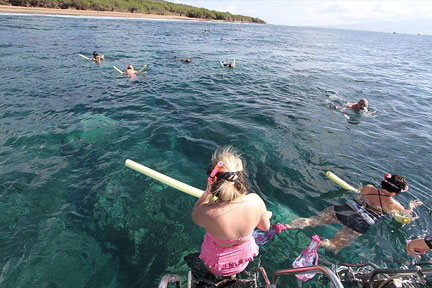 Swim step for easy water entry
Whale watch on all our tours between December and April.
Spinner Dolphins get their name from how they jump and spin in the air! Lanai has a resident pod of over 200 Spinner Dolphins we see regularly.
*Total price includes all taxes and fees. Internet Bookings Save 10% when booking more than 72 hours prior to trip departure.

If you would like to get off the boat and explore Lanai, try our Lanai Landing Adventure with 3+ hours to explore Hulope Bay and Marine Preserve.