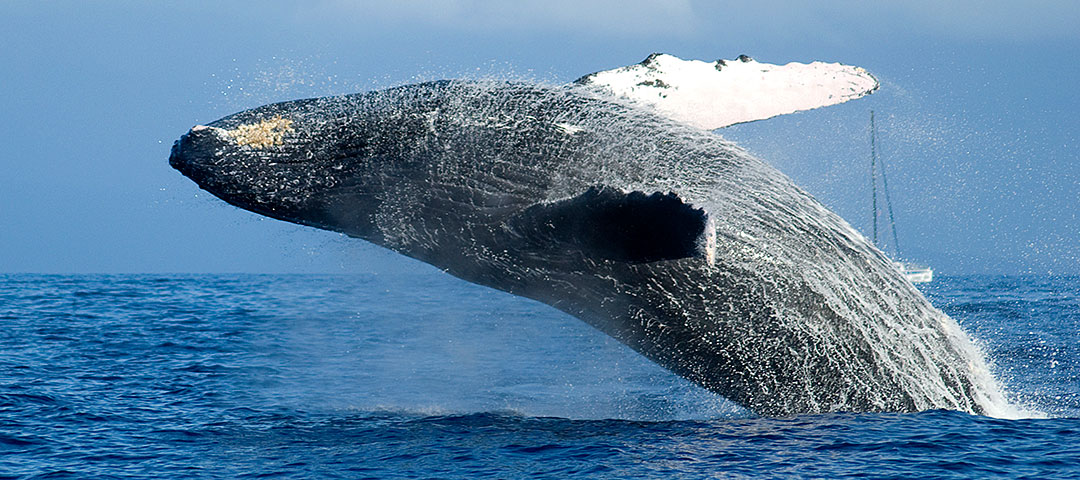 Humpback Whale breaches off Lahaina, Maui.
Whale Season is here! Come experience the best Maui Whale Watching from an Explorer Super Raft. We get to the whales fast!
We offer a Whale Season Pass (10 trips) for those of you who love to whale watch!
Maui Whale Watches start early December and continue until early April.
During Whale Season (December – April) we operate two hour guaranteed sighting Whale Watch Adventures. Our Explorer Super Rafts depart Lahaina Harbor, Front Row Slip 11 up to 7 times per day.
Departure times:
8:00 AM, 10:00 AM, 12:30 PM, 1:00 PM, 2:30 PM, 3:00 PM and 4:30 PM
Check-in times: 30 minutes prior to departure.
Our 50 ft. Explorer Super Rafts with the CADILLAC RIDE are the largest in the state of Hawaii (USCG certified to carry 42 passengers but we limit our trips to 36 passengers for comfort). Explorer Super Rafts are fast, fun & comfortable vessels allowing more time to whale watch and less time traveling to and from our leviathan friends.
The return to Lahaina Harbor is approximately 2 hours after departure.
Whale Watch Adventure
Book Today!
Save 10% when booking more than 72 hours prior to trip departure.
Qualifying discount applied at check out.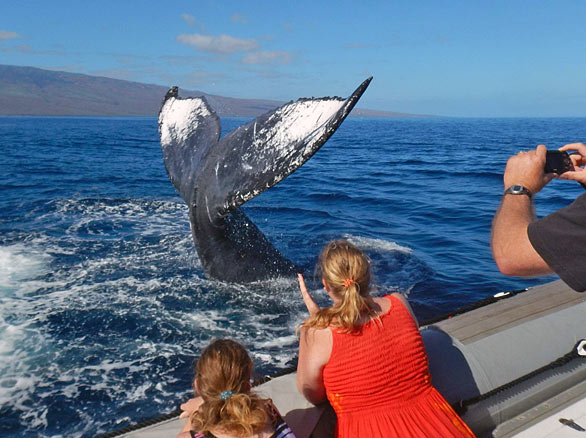 Whale Watch Adventure Features:
More Viewing

– Explorer Super Rafts get us to the whale watch areas for longer viewing opportunities, particularly important when active populations are further off-shore.

Fast & Comfortable Vessels

– spend more time whale watching and less time traveling.

Every Seat is a

Front Row Seat

with great viewing opportunities.

Our vessels give guests the opportunity for

Ocean Level and Up Close & Personal

whale viewing not 15 feet above the water.

Avoid the crowds

– view whales with a few friends rather than 100+ strangers on the big boats.

Guaranteed sightings

or your next whale watch adventure is on us (subject to availability).

On-Board

– Expert marine naturalists & hydrophone for great interaction.

Creature Comforts

– Plenty of padded seats, shaded areas, and even an on-board marine restroom.

Complimentary Beverages

on all adventures include sodas, juices & water.
Humpback Whale fluke dive
10 Whale Watches for one low price!
Every whale watch is unique; and the more time you spend on the water, the more chances you'll get for that perfect whale breach photo or that friendly whale to come up to the boat and say "Hi". We have seen dolphins riding the nose of whales, competitive pods of as many as 15 whales and calves that breach 10 times in a row. With 10 Whale Watch Adventures, what will you see? Your Whale Season pass will allow you on the water for 10 whale watches at one low price! Plus you get priority boarding for the seat of your choice!
Whale Season Pass
We offer a HOLOHOLO PASS where you can use your pass on any whale watch trip on any day (with a reservation) excluding the 10:00 am trip.
Good for 10 Whale Watches
Holoholo Pass
– $390.00 plus taxes

Get Your Whale Season Pass!
Quantity of 1 is good for 10 Whale Watches