Looking for the best places to eat on Front Street in Lahaina? You're in luck! There are a plethora of Lahaina restaurants, from classic Hawaiian cuisine to Italian-American fare. Lahaina has something for everyone (especially if you love fresh fish.) Let's take a look at a few of the must-visit Front Street, Lahaina Restaurants.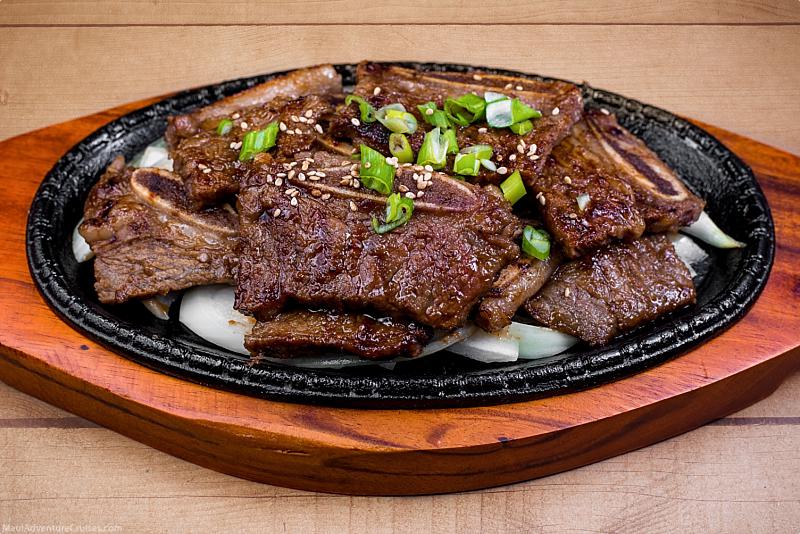 Best Lahaina Restaurants
Fleetwood's on Front Street
Located in the heart of historic downtown Lahaina, Fleetwoods offers delicious dishes like lobster tacos, ahi tuna BLT, freshly shucked oysters, fresh monchong, flat iron steak, and much more. Guests can enjoy the cozy atmosphere of Fleetwoods' dining room or take advantage of their outdoor rooftop seating.
The restaurant's menu also features an extensive selection of wines and a wide variety of local craft beers and spirits, as well as live music on most nights. And if you're feeling extra indulgent, you can enjoy one of their decadent desserts while taking in the Front Street ocean views (and whale sightings in the winter months) from their rooftop bar and lounge. Fleetwood's has been known for offering top-quality seafood dishes made only with the freshest local ingredients and is one of the best Front Street restaurants you can find.
Cheeseburger in Paradise
A famed Lahaina location, Cheeseburger in Paradise serves up some of the best burgers and sandwiches around. This beachside restaurant (literally hangs over the beach and ocean) also offers great seafood dishes and local favorites, like loco moco and blackened cod fish tacos.
And if you really want to keep things casual, grab one of their famous burgers and head down to the beach for a picnic. For those that are gluten-free, their GF buns are some of the best we've ever had.
Lahaina Fish Co.
The Lahaina Fish Co. is a seafood haven for locals and travelers alike. Most Front Street Lahaina restaurants source fresh fish daily from local fishermen, and this is no exception by providing guests with the best catch of the day. In addition to their signature menu items, such as their world-famous pulehu tako, they also feature an extensive selection of local favorites, including ahi katsu and island fish fry and chips. If you're looking to enjoy an island-inspired meal in a unique setting, check out this charming seafood spot — its open-air dining room overlooks breathtaking views of the Pacific Ocean and neighboring islands. We've added this to the best restaurants list because we've had some great meals here.
Frida's Beach House
A short drive north, Frida's serves up some of the most delicious Mexican dishes in Hawaii. Located up against the ocean, Frida's offers a unique and vibrant atmosphere that invites guests to treat their taste buds while taking in unparalleled views of the ocean. Their menu is full of authentic Mexican cuisine, from tacos and burritos to fajitas, carne asada, quesadillas, tamales, and much more. All dishes are prepared with fresh ingredients from local markets and farms, giving each plate a truly unique flavor profile.
Guests can also enjoy a selection of craft beers, margaritas, and tequila to complement their meals. The restaurant itself is decorated in true Mexican style with brightly colored walls and vibrant art pieces that capture the spirit of Mexico. Whether you're looking for a romantic dinner for two or just want to enjoy some delicious Mexican food with views – Frida's will satisfy all your cravings! During the winter months, you can even spot whales from your seat.
Mala Ocean Tavern
If seafood is your thing, Mala Ocean Tavern is one of Maui's best restaurants and is right next to Fridas. Boasting fresh seafood caught by local fishermen every day, this Lahaina restaurant serves great burgers too. The menu includes all sorts of creative dishes like seared scallops, pan-fried mahi mahi, braised pork shank, and huli huli chicken. And don't forget about their cocktails—happy hour runs from 2-4 pm daily and is dine-in only. This is definitely one of the best restaurants on Front Street in Lahaina.
Kapena's Wood-Fired Kitchen
The menu features a variety of flatbreads and specialty pizzas. All of the dishes are made using fresh ingredients sourced locally from farms and markets throughout Hawaii. The wood-fired cooking technique used adds a unique flavor to each dish, making it a truly unique culinary experience try the brick oven Maui onion dip.) The atmosphere at Kapena's Wood Fired Kitchen is warm and inviting, and their staff is friendly and knowledgeable. Their commitment to quality can be seen in every detail of their menu items, something instilled from a long line of tradition in the Coon family of West Maui.
Star Noodle
This famed Lahaina Restaurant is a popular destination for locals and visitors alike and is widely considered one of Maui's top 3 best restaurants. This beautiful oceanside eatery serves up fresh and delicious Asian-influenced dishes that are hearty and vibrant. The atmosphere at Star Noodle is friendly yet casual, offering an excellent selection of craft beers and unique cocktails. Star Noodle's outdoor seating allows for a true Maui dining experience with amazing ocean views (a big upgrade from the previous location.)
Whether you're visiting Maui for vacation or are a local looking to try something new, Star Noodle is the perfect place to experience Hawaiian hospitality through the flavors of Asia. Make sure to make your reservations well before your trip, as it books up quickly.
PacificʻO Restaurant
If you're looking for fine dining with an ocean view, Pacific'O is your spot. This upscale bistro focuses on using only locally-sourced ingredients—including produce from their very own garden! Specialties include mahi mahi Wellington, Wagyu beef short ribs, and local-style poke. Plus, they have an extensive wine list that pairs perfectly with each dish they serve. This is also the location for the Feast at Lele Luau.
Down the Hatch
In the heart of Lahaina, this is a unique and vibrant restaurant and bar that brings together local Hawaiian flavors with an eclectic mix of global cuisines. It offers a diverse range of menu items, from bacon-n-sprouts to lava-lava spicy chicken sandwiches. The atmosphere is always lively, with colorful decorations, dynamic music, and delicious cocktails.
Kimo's Maui
Renowned for its delicious, locally-sourced ingredient, every dish served at Kimo's Maui is made with the freshest ingredients that are sourced from local farms and fisheries. The restaurant itself takes up two floors, and every meal is enjoyed while admiring incredible views of the ocean or colorful sunsets over the water. Don't forget to tantalize your taste buds by ordering their famous hula pie.
Lahaina Grill
This iconic upscale restaurant in the heart of Lahaina, Is located just off Front Street on Lahainaluna Road at the historic Lahaina Inn. The atmosphere is elegantly casual, with each room featuring comfortable seating and tasteful decor. Many claim this is the best Maui restaurant due to its location and great food. As soon as you step inside Lahaina Grill, you are embraced by a warm atmosphere with cozy lighting that adds to the feeling of relaxation and enjoyment. Guests can select from a mouthwatering menu that includes fresh-caught mahi-mahi, grilled Ahi tuna, succulent steaks, and much more! And don't forget about the award-winning wine list; it's sure to please everyone from novice to connoisseur! If you're looking for an unforgettable dining experience on Maui, look no further than this famous Lahaina restaurant. Remember, this one is considered one of Maui's best restaurants.
Paia Fishmarket
Paia Fishmarket in Lahaina is a must-stop destination when visiting Maui. This laidback seafood spot has been a favorite amongst locals and tourists alike since first opening up in Paia, and it's easy to see why: these restaurants boast some of the freshest seafood on the island and generous portions for a great price. The menu features everything from classic fish tacos to quesadillas, ensuring that there's something for everyone.
But what really sets Paia Fishmarket apart is the quality of their catches—they source their seafood from local fishermen who bring in daily catches from the surrounding waters. Grab some to-go tacos and sit on a bench under the famous banyan tree for a true Lahaina experience.
Want more Lahaina Restaurants?
No matter what type of food you're craving during your visit to west Maui, you can find a delicious meal along Front Street at some of Maui's best restaurants. From fresh seafood dishes to fine dining experiences overlooking the ocean, there are plenty of Lahaina restaurants ready to satisfy your appetite! So go ahead—explore all that Front Street has to offer and pick out your favorite spots before someone else does! Aloha!
---
Maui Adventure Cruises
Average rating:
0 reviews